In association with Fisher & Paykel.
Few Kiwis would be able to recall a time when Fisher & Paykel wasn't a thing. The innovative powerhouse has been designing products in New Zealand since 1934; with its creations now sold in more than 50 countries, it's a local icon that remains steeped in the essence of Aotearoa — and its new Auckland Experience Centre in Grey Lynn, Tāmaki Makaurau embodies that.
Although you'll recognise its proudly familiar cornerstones, stepping inside this immersive showroom (a collaboration between the brand's in-house design team, iwi Ngāti Whātua Ōrākei, multidisciplinary design studio Alt Group and interior designer Rufus Knight of Knight Associates) veritably draws you through the looking glass into another world. Instantly enveloped in luxury, you're greeted by an exquisite 'breathing rock' — a six-ton basalt sculpture in which water rises and falls in time with the tides of the Waitematā, representing the wairua/spirit of Māori ancestor Tumutumuwhenua and calling to Ōkahu Bay, the site of the Ōrākei marae. A second sculpture shaped from 4000-year-old swamp kauri was informed by another iwi narrative — that of Kāwharu, the 'Kaipara giant' associated with the Great North Road ridgeline on which the Experience Centre is located.
The designers' collaboration with Ngāti Whātua Ōrākei was critical to ensure an authentic connection to place, and when you're standing on the 700-year-old wind-felled tōtara flooring, surrounded by rammed-earth and ironsand-infused plaster walls, you can't help but feel grounded and engaged. Wandering through the building's sequenced progressions, you'll also be reminded of the beauty of bespoke architecture and motivated to seek perfection at your place.
Curiosity and collaboration are key to Fisher & Paykel's culture, and here local knowledge combines with like-minded global connections in hero spaces by international kitchen designers Arclinea, Boffi and Henrybuilt that show Fisher & Paykel appliances in situ — and at their finest. The ingenuity, quality and craftsmanship that are hallmarks of each company's work are expressed in unique ways. The Arclinea Contemporary Kitchen combines Italian stone, bronze and oak in a modern aesthetic suited to appliances from Fisher & Paykel's Contemporary range; the monochrome Boffi Minimal Kitchen integrates pared-back products from Fisher & Paykel's Minimal range; and in walnut timber, the Henrybuilt Professional Kitchen is a match for the bold stainless steel of Fisher & Paykel's Professional style.
Other distinct zones within this grand space include the Social Kitchen, furnished with a 9.5m 'waka table' carved from 45,000-year-old swamp kauri and illuminated by a magnificent blown-glass pendant by Flos that speaks to the idea of celestial navigation. Designed with Arclinea, it sees in-house chefs use sustainably sourced ingredients and award-winning local wine to demonstrate — in ways you can see and taste — the insights into food and wine care and ergonomic functionality that drive Fisher & Paykel's approach. Elsewhere, the limestone-clad Outdoor Kitchen presents Fisher & Paykel's grill brand, DCS, while the Plan & Choose Studio invites you to maximise your project's potential with support from the experts and a complete range of reference material.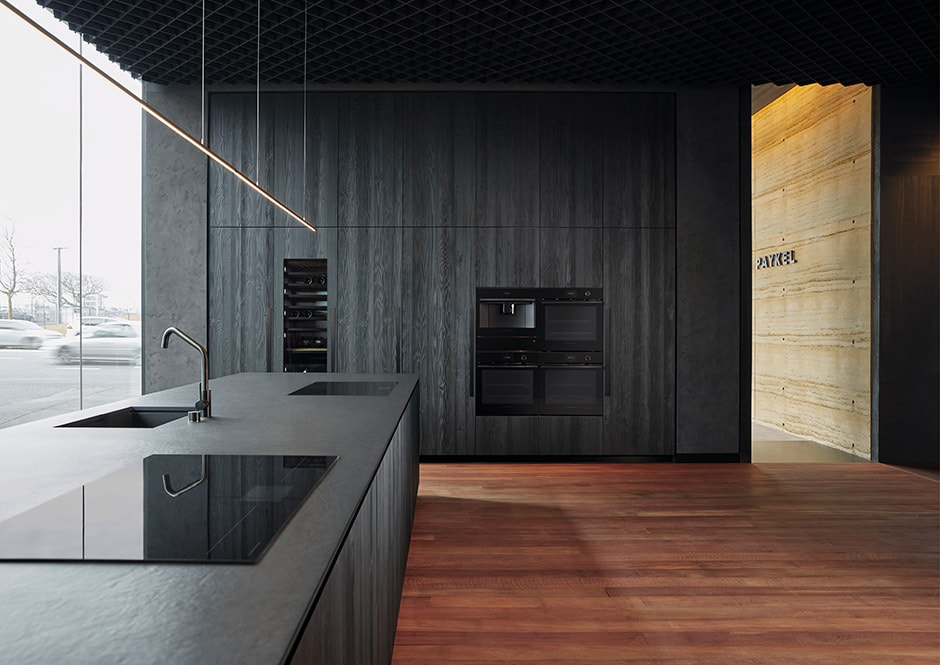 Laundries are also championed at the Experience Centre, in the Fabric Care space, which was designed alongside Boffi to foresee the future of laundry. Alongside next-generation Fisher & Paykel washer machines and dryers and walk-in wardrobes, on display for the first time is the new Fabric Care Cabinet, which features alternatives to machine washing and drying that extend the life of your clothing, such as steam refresh and deodorising options. All provide opportunities to reduce your impact on the planet, something this remarkable retail experience replete with natural marvels may also inspire you to do.
fisherpaykel.com
Photography Toaki Okano